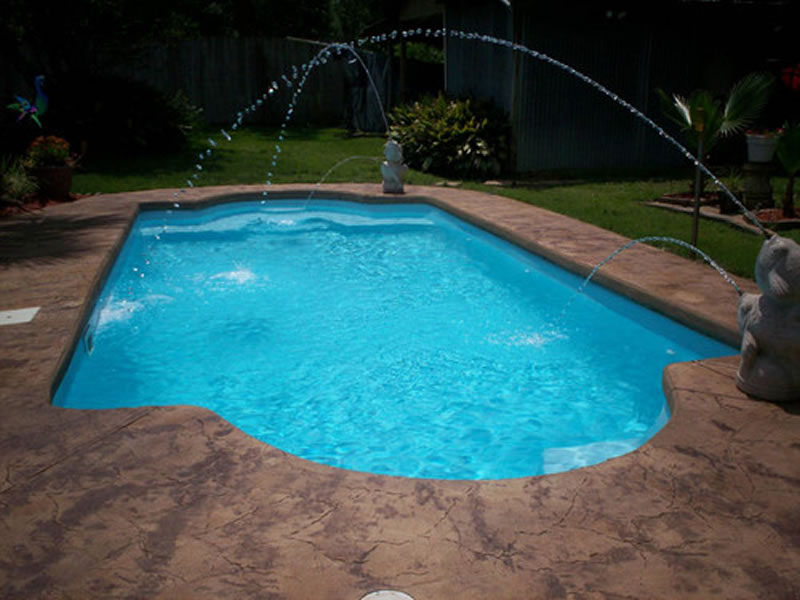 Trinity by American Fiberglass Pools | YOUR BLOWOUT PRICE: $ 61,450
Product Details/Description:
The Trinity is one of American Fiberglass Pools most stylish designs, with long slender lines and gentle curves that lend a feeling of standing in the shadows of the acropolis in ancient Greece. The Trinity's Grecian design makes it not only stylish but also practical for small yards and patio homes. This American Fiberglass Pool has a depth of 3 feet to 5 feet, and is 11 feet wide by 27 feet in length. The Trinity is one of American Fiberglass Pool's all time most popular designs, with plenty of both depth and length to allow the swimmer in the family ample room for exercise. The shallow end not only contains the three steps entering the Trinity, but also a long love seat to simply relax in. The deep end has a swimout to which hydrotherapy jets can be easily installed. Choose any decking imaginable to turn your backyard into a Grecian courtyard with the Trinity from American Fiberglass Pools.
Product Notes:
ExpertPoolBuilders offers the finest quality fiberglass pools to turn your property into your own private oasis. Sometimes, however, we inventory "B stock" pools like this one. These pools have minor blemishes that do not impact the function of the pool. Examples include gel-coat and color imperfections. These pools are available at significant savings off of the regular sale price. Take a look and be sure to contact us with any questions you may have as your satisfaction is our #1 priority.
WARRANTY INFORMATION
Lifetime Structural Warranty
NO Cosmetic/Appearance Warranty
PRODUCT CONDITION
This IN STOCK pool's condition is noted as: NEW!